---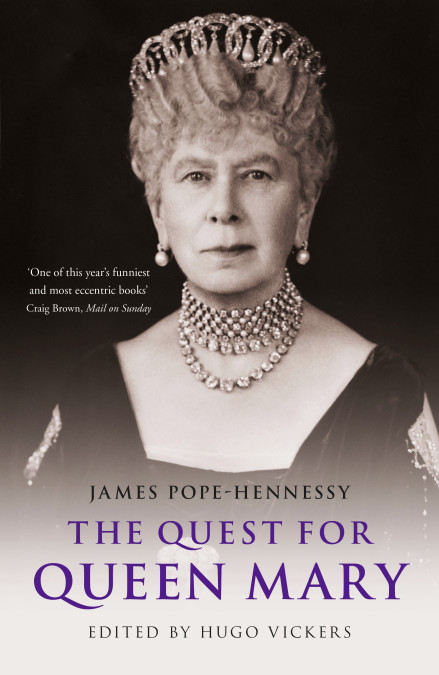 Published by Hodder & Stoughton
September 2018
ISBN: 9781529330625
Hard cover and paperback

"Very funny and astute . . . a loathly feast for royal-watchers"
Hilary Mantel, New Statesman Books of the Year 2018

"Almost every page is a gem"
A. N. Wilson, Spectator Christmas Books

"A complete delight, conjuring up, with a few sharp strokes of the pen, a mad, exotic species from a world gone by"
Craig Brown, Mail on Sunday"

---
In aid of Scrubditch Care Farm
Recommended donation: £15.00 per person
6.00pm Doors open – Drinks and canapés
7.00pm Talk starts
---
Hugo Vickers, the well-known writer, broadcaster and expert on the Royal Family, takes us on a whistle-stop journey through the life of Queen Mary, grandmother of our present Queen - and introduces some of the extraordinary figures that surrounded her.

The talk is based on the recently-published book The Quest for Queen Mary, edited by Hugo, which focuses on the copious notes of the late James Pope-Hennessy, the official biographer of Queen Mary. Pope-Hennessy's 1959 biography was described as 'the most entertaining royal biography that has ever been written.'

The Quest for Queen Mary was a runaway success on publication in 2018, being described by Craig Brown as 'one of this year's funniest and most eccentric books...' and was named as a book choice by Hilary Mantel and numerous others. By May 2019 it had sold over 30,000 copies in various forms. It became a paperback in June 2019.
Hugo will tell the story of James Pope-Hennessy's research into his royal subject and the fascinating people and anecdotes he discovered. Hugo will take questions on these and other topics. He will sign copies of his book, which will be on sale in paperback and hardback.
---
About our speaker

Hugo Vickers is a biographer, lecturer and broadcaster, and an acknowledged expert on the Royal Family.

He has written many biographies of 20th century figures, including Cecil Beaton, Vivien Leigh, the Duchess of Windsor, Princess Andrew of Greece, and the Queen Mother. His first book was about Gladys Deacon, Duchess of Marlborough.

Hugo commentates on important state occasions and when the Royal Family are in the news. He has covered events from the first wedding of the Prince of Wales, the funeral of Diana, and the Queen Mother, and the recent royal weddings. The Financial Times recently described him as: 'the most knowledgeable royal biographer on the planet.'

For more on Hugo, see:
www.hugovickers.co.uk

---
This event is supported by the North Cerney Branch of Cotswold Conservatives and Silverdart Publishing for the benefit of Scrubditch Care Farm.
Silverdart Publishing
Woodmancote Manor, Woodmancote,
Cirencester, Gloucestershire GL7 7ED
Tel: +44 (0)1285 831 789
info@silverdart.co.uk
Contact: Alex Murray (amurray@...) or John Thistlethwaite (john@...)
All material displayed on this website is copyright of Silverdart Ltd or its clients, friends or partners. Cookies are used only to monitor the volume of traffic to this site. No other visitor information is sought or collected by this website. Users of the Donate button for card and PayPal payments are subject to Paypal security and data policies. Silverdart Ltd has registered on the data protection register of the Information Commissioner's Office (reg.no ZA497764) and maintains a GDPR policy which can be viewed on request. Silverdart Ltd is a limited company registered in England, no 02410372. Silverdart has an agreement with Scrubditch Care Farm (SCF) to collect funds for SCF for this event only. Scrubditch Care Farm is a registered charity No. 1153460, www.scrubditchcarefarm.org.uk